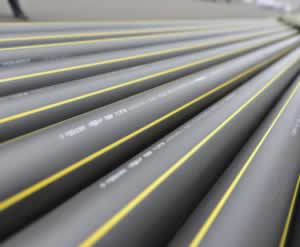 Yi Fu Ma Tianjin Pipe Co., Ltd offer a complete piping system manufactured in Medium Density Polyethylene --PE-80 in yellow & PE-100 in ORANGE color-- for low pressure gas transport applications. The advantages of the PE pipe have been approved in the Gas Industry. Polyethylene's toughness & light-weightiness adds to its cost effective and reliable solutions required for Gas Distribution Systems.Tianjin billion-Ma Industry Co., Ltd Polyethylene Gas Pipes are available in the range of 20 mm to 315 mm O.D. These can either be in straight length of 6 M (above 110mm) or coils of 50, 100M up to 110mm.

Size: 20mm to 630mm.
Pressure: SDR17.6, SDR11.
Standard: ISO4437, EN1555, AS4130 etc.
Color: Black or customized.
HDPE Gas Pipe Advantages:
1. Corrosion Resistant: resist chemical matters and electron chemical corrosion
2. Low Flow Resistance: smooth interior walls and low friction
3. Excellent Flexibility: can be supplied in coil
4. Easy Installation: light weight and handed friendly
5. Longevity:can work for more than 50 years under proper use
6. Various Joint Availability: butt fusion joint, electro fusion joint and transition joint
7. Recycled and Environment-friendly
HDPE Gas Pipe Applications:
HDPE gas pipe is suitable for gas transportation on condition that working temperature is among -20℃~40℃ , and long-term maximum working pressure is not more than 0.7MPa. Junxing Polyethylene Gas Pipe is suitable for Gas distribution network both for domestic & industrial consumption.
dn(mm)

SDR17.6

SDR11

Thickness

Thickness

20

2.3

3.0

25

2.3

3.0

32

2.3

3.0

40

2.3

3.7

50

2.9

4.6

63

3.6

5.8

75

4.3

6.8

90

5.2

8.2

110

6.3

10.0

125

7.1

11.4

140

8.0

12.7

160

9.1

14.6

180

10.3

16.4

200

11.4

18.2

225

12.8

20.5

250

14.2

22.7

280

15.9

25.4

315

17.9

28.6

355

20.2

32.3

400

22.8

36.4

450

25.6

40.9

500

28.4

45.5

560

31.9

50.9

630

35.8

57.3