"Get the Cleaning Clients You've Always Wanted and Build a Reliable Business…"
Stop worrying about getting clients.
You're tired of spending money on advertising that doesn't work. You don't have time to dedicate to spinning your wheels.


No Problem, We Do it For You.
You'll get ads already done for you. We even do the graphic design for you. You don't have to worry about writing ad copy or created an ad design. It's all taken care of.
You get all kinds of postcards, EDDM, newspaper ads, brochures, flyers, salesletters, client newsletters, yellow page ads, greeting cards, internet marketing, and more.
It's already written and designed for you. We add your logo, phone number and information to the ad. Then it's ready to go to the printer. Yes, we do the graphic design for you and even give you with SUPER low cost printing options.
Targeted Marketing
While finishing my B.A. in advertising, I started my carpet cleaning business 20 years ago. I wanted to practice advertising and find out what worked.
Through a process of learning and error, I eventually cracked the code. I learned how to create highly targeted advertising.

I built my carpet cleaning company to be one of the most expensive, well-known companies in my city.

Now, I want to pass all I've learned on to you. You can borrow all my secrets. You can take the learning curve out of the equation and start making money with your advertising tomorrow. I'll show you how. I'll even give you the actual ads I used to build my own carpet cleaning business.


What is your best advertising option?
In my Advertising Planning Book you'll learn about marketing your cleaning business online. It's possible, if you market yourself correctly, your cleaning website can bring you tons of jobs for little money. But your website MUST be set up properly. This is all explained in my planning book.
Profitable Advertising The Easy Way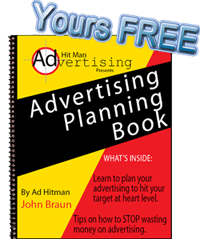 The first secret I want to pass on to you is my Advertising Planning Book I personally use to get as much as a 20 to 1 return on my advertising dollars. That means if you spend $100 on ad ad, you can get $2000 in return.

Do you want to learn how to get HUGE returns like that? Just fill out your first name and email address in the form at the upper left corner of this page or the form below to claim your copy.

Sincerely,



John Braun
The Ad Hitman

P.S. Why waste years trying to get a profitable advertising system down when you can quickly learn it now? Your business will take off and fund the life you've always wanted.

P.P.S. Get your FREE Advertising Planning Book right now to start getting the most profit from your advertising. This is the same advertising strategy I use to get a $1,247 return for $100 invested in advertising.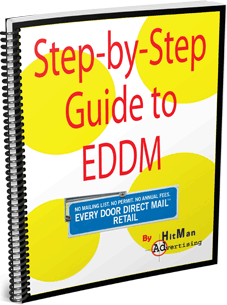 P.P.P.S. You'll instantly have everything you need to start planning your strategy, plus you get my brand new "Every Door Direct Mail Guide" and "Internet Marketing Blueprint" Report for cleaning companies--$37 value, but it's yours FREE.

You'll get killer internet marketingtips specifically for getting cleaning companies to get cleaning companies more jobs online. All you have to do is fill in your first name and email address in the form below.







Claim Your FREE Ad Planning Book and "Marketing Plan" By Filling in Below...
---
Please tell me as much as you can about your exact needs. I'll answer your questions as best as possible.

Email privacy. Don't worry, your email is safe. I will never give your email to anyone. You can safely opt-out any time you wish.